What Is The 6th Man Club?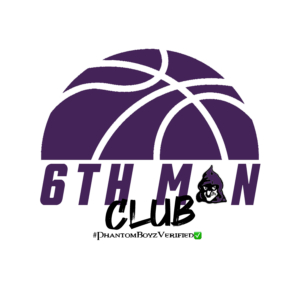 The "6th MAN CLUB" is the student support club for Cathedral's boy's basketball team, in honor of the historic site that Cathedral High School sits on, the former Old Calvary Cemetery. The "6th MAN CLUB" stands in their own dedicated section inside Cathedral Gymnasium as well as travel to away games and begin cheering during pre-game warm-ups. Many members of the "6th MAN CLUB" paint their faces purple and white and wear Cathedral Basketball paraphernalia to represent their team.
Throughout the game, the 6th MAN CLUB jumps up and down when the opposing team has possession of the ball and yells cheers, created by the 6th MAN CLUB members, in unison at focal points of the game. This will be a fun time for friends to hang out, even if you don't know much about the game of basketball. There will be after school practice times for the "6th MAN CLUB" to learn the cheers and get organized.
Membership Has Its Privileges
Membership is $30 and includes one (1) free t-shirt and special 6th MAN CLUB ONLY seating at home games. You also receive a 20% discount on all t-shirt purchases on Thursdays from 2:30pm to 4:00pm. We will try to have a "6th MAN CLUB" bus or van to away games, however there will be an extra cost for that each time to pay for the bus and admission to away game (other schools charge just like we do). This will be discussed at "6th MAN CLUB" practices before each away game.
Students gain points by attending boy's basketball games and sponsored events. These points will earn members prizes* such as apparel and gift cards. In addition, members will receive various invites to special pre-game functions and promotional items.
Our goal is for the 6th MAN CLUB to earn a reputation as the most energetic, wittiest and best-organized high school basketball fans in the world!
Want To Join The 6th Man Club?
Just enter your name and email and click send to get started!