Troplent Remembers Support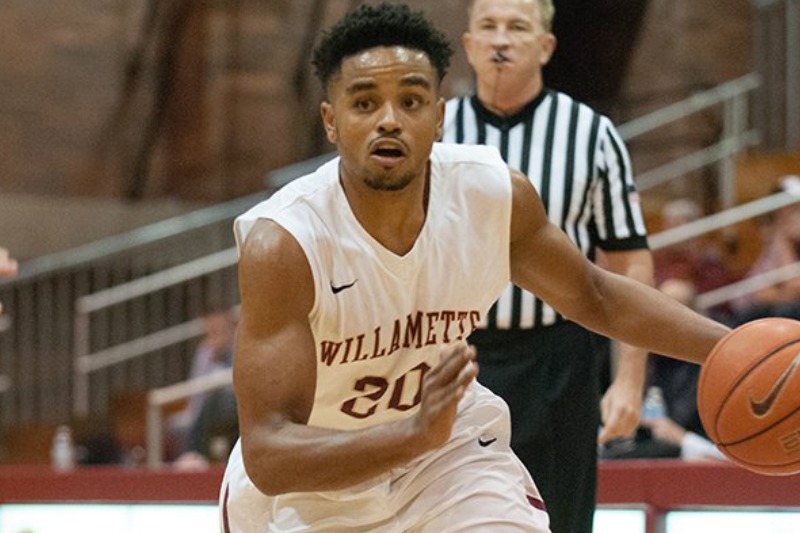 As a Willamette University men's basketball player from 2014-15 through 2017-18, Nico Troplent ('18, MBA '20) was able to provide a big play during a key moment of a game. Whether it was stealing the ball from an opponent, moving quickly down the court for a layup, grabbing a rebound, or connecting on a 3-points shot, he was always ready to contribute. Looking back on his career at Willamette, Troplent also remembers the many ways that his coaches, teammates, and family members contributed to his time as a Bearcat.
"The basketball coaches at WU significantly impacted my development as a basketball player and a responsible person," Troplent recalled. "They always pushed us to be the best versions of ourselves on the court by putting us in positions to be successful. Simultaneously, I was lucky to have some great coaches who were also very approachable outside of basketball. They were always more than willing to offer guidance on how to navigate life as a student-athlete and a community member. I am forever grateful for all the lessons taught by my coaches during my time at Willamette."
Willamette Head Coach Kip Ioane remembers recruiting Troplent. "Nico was a guy who I had to go see in person at Cathedral High School in Los Angeles," Ioane said. "I not only got to watch him, but then got to do a sit-down with him right then and there."
Troplent's teammates had a big impact on his development as a college player as well. He was able to apply things he saw and learned from several teammates into his own efforts. It allowed Troplent to broaden his abilities each year.
"I am blessed to have had great teammates during my time at WU," Troplent noted. "Each of them challenged me to be successful on and off the court. They all had their unique approach to the game, and I learned a lot from them. Most importantly, I made some life-long friends during my time at Willamette. My experience on campus would have been significantly different without them. I am grateful to have been around them, as these are relationships that I will cherish for the rest of my life."
"Nico is quiet strength personified," Ioane asserted. "He is a kind soul who was there to support his teammates. As he matured, he grew willing to use his voice in spots to drive guys to be better."
Troplent graduated from Willamette with a bachelor's degree in Economics in 2018. He received an MBA degree from the Atkinson Graduate School of Management at Willamette in 2020.
While playing for the Bearcats, Troplent competed in 99 games and made 89 starts. He played in all but two games during his career. He saw action in all 26 games as a first-year player and in all 25 games in 2016-17. He started all 25 games as a senior in 2017-18.
Troplent finished his career with 981 points and 419 rebounds. He averaged 9.9 points per game, including a career-high 11.7 points per game during his senior season. He achieved an 80.4% career free throw mark. He was third in the NWC in free throw shooting in 2017-18 at 86.1%.
"Nico was always a super talented guy from the moment he stepped foot on campus," Ioane said. "We tried to find ways to challenge him to be consistently great on both ends of the floor."
Some of his statistics show how much he improved and added to his skills over his final two seasons. He grabbed 259 of his 419 rebounds in 2016-17 and 2017-18 after earning 160 rebounds in his first two years. He set career highs for scoring (293 points), field goals made (100), free throws made (68), and assists (46) as a senior.
"As a truly unselfish player, Nico was always willing to do the things necessary to make his teammates better," Ioane commented. "As he grew into his game, he became a guy who could also take over by himself with baskets and getting stops. He was one of the more talented on-ball defenders we've had."
"My ability to perform well on the court directly resulted from the work and support of my family, teammates, and coaching staff," credited Troplent. "My family back home watched our games religiously and would always provide a great amount of encouragement. In addition, my coaches and teammates provided the confidence and support needed to perform on the court. It's a team effort, and we worked tirelessly to put each other in positions to be successful.
His career totals also included 135 assists, 121 steals, and 25 blocked shots. He registered at least 28 steals per year, including three years with 30 or more.
"It's always a very nostalgic activity for me to think back on my experience with the program," Troplent added. "We had great moments together and a fair share of challenges, but in the end, it yielded great memories and teachings that I will carry forever."
According to Troplent, he benefited from Willamette's overall approach to athletics and the specific styles of Head Coach Ioane and the assistant coaches. There were so many aspects of the game and pointers about life in general, that Troplent was able to gain so much from his years on the team.
"Kip and the rest of the coaching staff made it their mission to ensure that we were both comfortable in WU's community and performing well as students before anything else," Troplent said. "Regardless of the situation, our coaches always made time to inquire about our lives on campus and in the classroom, pointing us to appropriate resources if needed.
"Nico and his classmates were willing to embrace and push our character development plan to new heights," Ioane recalled. "They are fantastic ambassadors for not only our program, but for the idea of a #healthiermanhood in general."

Troplent, originally from Guadalupe, France, has moved almost all the way to the other side of the United States since graduating.
"I moved to Atlanta, Georgia, about three months ago and currently work in operations for a logistics firm in town," Troplent noted. "It has been a neat experience, and I am grateful to have found this opportunity in this great city. At the same time, I have just recently started freelancing as a web developer. It's a fun skill that I have been sharpening for months which fits perfectly with my skills and interests. I have not touched a basketball in months. However, I carry the same mindset and principles from my time at WU to be the best team-player and performer in my field."
Let Us Know What You Think
Enter your email and subscribe to our newsletter.